Made With
Perfect Precision
Using proprietary molds & CNC milling we achieve a level of precision that can't be beaten. We offer a higher level of comfort and concealment than you have ever experienced from a Kydex holster.
Guaranteed For Life
C&G Holsters are 100% made in America by Veterans & Law Enforcement. Our kydex holsters are made to last for life.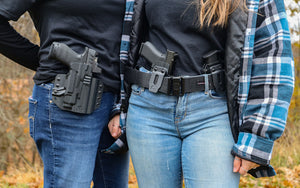 Designed to be so light & comfortable, you never want to take it off. Just ask our customers.
Attention To Detail
C&G Holsters are designed by former law enforcement to be practical and tactical. Our unique design features are inspired by real-life experience like our holster's tall sight channel, solid locking retention, & more.
★★★★★

Fit and finish is top notch. Very comfortable for all day OWB carry. I'm hooked on C&G holsters and magazine carriers, especially the Slim Line.

J.T.

Pennsylvania
★★★★★

I've been in Law Enforcement for 23 years and have had several holsters in that time. This is the best holster I have ever had. I use it everyday for work and am always impressed by its comfort and the way it secures my firearm in my side. I love it!!!

C.S.

Arizona
★★★★★

Awesome Holsters! I have 4 C&G holsters and I absolutely love them all! They are the best of the best in my opinion!

D.M.

North Carolina
★★★★★

This holster is ridiculously comfortable. It hugs surprisingly tight to the body without jamming my weapon into me, and is adjustable to whatever height I need it at very easily.

G.

UTAH