NOTE: THIS KIT WILL NOT WORK WITH AN OWB HOLSTER!
The IWB ALPHA Kit comes with:
Hardware to install (2) DCC Clips and a Concealment Wing.
C&G Dark Wing (for non-light bearing holsters) OR C&G Light Wing (for light bearing holsters)

C&G Logo'ed DCC Clips (Pair)

:
Choose 1.5" or 1.75" to fit your specific belt width (also fits thicker riggers belts)
A horizontal slot allows the clip to be mounted on an angle 8° in either direction
Standard DMG/Cu finish Color - DCC dark matte grey
Non-reflective and resists corrosion 
DCC Clip Care and Maintenance: The finish does not need much attention. If any light scratches or wear marks develop, DCC recommends a quick buff with WD40, but anything from vegetable oil to mineral oil to CLP to motor oil will work well. Just put a couple of drops on your clip and rub it in vigorously using firm pressure with a lint-free cloth. This will help keep it looking it's best cosmetically.
Worth the cost.
Good product and great customer service. I was missing some hardware in the package. Contacted customer service and they sent me out replacement hardware with no issues
Excellent option
Excellent- these are a great addition to your holster if you wear workout pants or shorts without a belt. Hold is strong!
Excellent product
Belt clips are bad ass. The customer service is excellent as well
Made With
Perfect Precision
Using proprietary molds & CNC milling we achieve a level of precision that can't be beaten. We offer a higher level of comfort and concealment than you have ever experienced from a Kydex holster.
Guaranteed For Life
C&G Holsters are 100% made in America by Veterans & Law Enforcement. Our kydex holsters are made to last for life.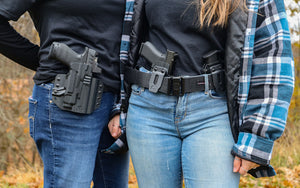 Designed to be so light & comfortable, you never want to take it off. Just ask our customers.
Attention To Detail
C&G Holsters are designed by former law enforcement to be practical and tactical. Our unique design features are inspired by real-life experience like our holster's tall sight channel, solid locking retention, & more.
★★★★★

Fit and finish is top notch. Very comfortable for all day OWB carry. I'm hooked on C&G holsters and magazine carriers, especially the Slim Line.

J.T.

Pennsylvania
★★★★★

I've been in Law Enforcement for 23 years and have had several holsters in that time. This is the best holster I have ever had. I use it everyday for work and am always impressed by its comfort and the way it secures my firearm in my side. I love it!!!

C.S.

Arizona
★★★★★

Awesome Holsters! I have 4 C&G holsters and I absolutely love them all! They are the best of the best in my opinion!

D.M.

North Carolina
★★★★★

This holster is ridiculously comfortable. It hugs surprisingly tight to the body without jamming my weapon into me, and is adjustable to whatever height I need it at very easily.

G.

UTAH