C&G Holsters will custom craft your specific holster to exactly what you need
Choose your:

Orientation

Color
Attachments
Sweat Guard Size
C&G will handle the rest.  


Features Included
Designed to fit with most RMR/Red Dots on the market

 

Trijicon RMR, Leupold DeltaPoint, Sig Romeo, etc. (Please list in Order Notes if you have the

 

Trijicon SRO)
Custom C&G 1.75" belt loops
Tall sight channel (Red Dot/Suppressor height)
100% made in America, by Veterans and Law Enforcement and guaranteed for life! 
Solid locking retention (audible and tactile "click" when securely holstered)
Proprietary molds and CNC milled means perfection for you and a level of precision that can't be beaten. This means a level of comfort and concealment you have never experienced from a Kydex holster. 
DISCLAIMER:  "GLOCK" is a federally registered trademark of GLOCK, Inc. and is one of many trademarks registered by GLOCK, Inc. and GLOCK Ges.m.b.H. Neither C&G Holsters nor this site are affiliated in any manner with, or otherwise endorsed by, GLOCK, Inc. or GLOCK Ges.m.b.H.
Products found on this website are not manufactured, authorized, endorsed, or warranted by GLOCK.  Further, GLOCK does not warrant or represent that any product on this website is compatible with GLOCK pistols. The use and purpose of "GLOCK" on this page is an advertisement for the sale of C&G kydex holsters and products that are compatible with Glock pistols and magazines.
For additional genuine GLOCK products, please visit www.glock.com. 
Glock 27
Great holter construction. But the belt clip provided does not provide the same secure support as the alpha upgrade that I have on my Springfield XDM elite 10mm holter. I will be ordering the alpha upgrade.
Won't use anything else
C and G holsters are, in my opinion, are the best you can get. Comfortable and reliable. Quality built through and through!!!
Made With
Perfect Precision
Using proprietary molds & CNC milling we achieve a level of precision that can't be beaten. We offer a higher level of comfort and concealment than you have ever experienced from a Kydex holster.
Guaranteed For Life
C&G Holsters are 100% made in America by Veterans & Law Enforcement. Our kydex holsters are made to last for life.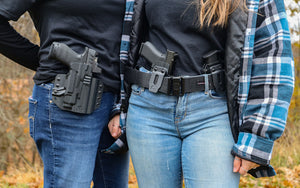 Designed to be so light & comfortable, you never want to take it off. Just ask our customers.
Attention To Detail
C&G Holsters are designed by former law enforcement to be practical and tactical. Our unique design features are inspired by real-life experience like our holster's tall sight channel, solid locking retention, & more.
★★★★★

Fit and finish is top notch. Very comfortable for all day OWB carry. I'm hooked on C&G holsters and magazine carriers, especially the Slim Line.

J.T.

Pennsylvania
★★★★★

I've been in Law Enforcement for 23 years and have had several holsters in that time. This is the best holster I have ever had. I use it everyday for work and am always impressed by its comfort and the way it secures my firearm in my side. I love it!!!

C.S.

Arizona
★★★★★

Awesome Holsters! I have 4 C&G holsters and I absolutely love them all! They are the best of the best in my opinion!

D.M.

North Carolina
★★★★★

This holster is ridiculously comfortable. It hugs surprisingly tight to the body without jamming my weapon into me, and is adjustable to whatever height I need it at very easily.

G.

UTAH