C&G Holsters will custom craft your specific holster to exactly what you need
Choose your:

Orientation

Color
Attachments
Sweat guard size
C&G will handle the rest. 
Features Included
Tall sight channel (Red Dot/Suppressor height)
100% made in America, by Veterans and Law Enforcement and guaranteed for life! 
Solid locking retention (audible and tactile "click" when securely holstered)
Proprietary molds and CNC milled means perfection for you and a level of precision that can't be beaten. This means a level of comfort and concealment you have never experienced from a Kydex holster.
Perfect!
It seems the best thing to do today if you're going to carry a second gun, then use a small pistol. TheC&G Kydex holster Not only was a perfect fit but was also very comfortable. I was never really crazy about carrying in the appendix but with this holster, it feels really good!
gift for Daughter in Law
Well made, dependable. Multiple use options.
Great holster
I have purchased way too many holsters that were supposed to be good but really did not do the only job they were made for. This one is different. It fits perfectly and the adjustment screws work also. Stop wasting money trying to buy a cheap holster and try one of these. In my opinion, this is as good as it gets. Having said that, it is a bit expensive. I bought one for my Ruger LCP and SIG P365. Both fit perfect as a holster should. Cost vs function, do your own math.
Made With
Perfect Precision
Using proprietary molds & CNC milling we achieve a level of precision that can't be beaten. We offer a higher level of comfort and concealment than you have ever experienced from a Kydex holster.
Guaranteed For Life
C&G Holsters are 100% made in America by Veterans & Law Enforcement. Our kydex holsters are made to last for life.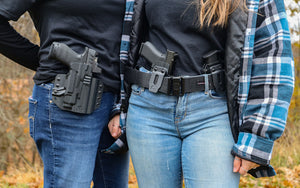 Designed to be so light & comfortable, you never want to take it off. Just ask our customers.
Attention To Detail
C&G Holsters are designed by former law enforcement to be practical and tactical. Our unique design features are inspired by real-life experience like our holster's tall sight channel, solid locking retention, & more.
★★★★★

Fit and finish is top notch. Very comfortable for all day OWB carry. I'm hooked on C&G holsters and magazine carriers, especially the Slim Line.

J.T.

Pennsylvania
★★★★★

I've been in Law Enforcement for 23 years and have had several holsters in that time. This is the best holster I have ever had. I use it everyday for work and am always impressed by its comfort and the way it secures my firearm in my side. I love it!!!

C.S.

Arizona
★★★★★

Awesome Holsters! I have 4 C&G holsters and I absolutely love them all! They are the best of the best in my opinion!

D.M.

North Carolina
★★★★★

This holster is ridiculously comfortable. It hugs surprisingly tight to the body without jamming my weapon into me, and is adjustable to whatever height I need it at very easily.

G.

UTAH