Choose 1.5" or 1.75" to fit your specific belt width (also fits thicker riggers belts)
Horizontal slot allows clip to be mounted on an angle 8° either direction.
Standard DMG/Cu finish: Color - DCC dark matte grey.
Non reflective and resists corrosion very well
Care and maintenance: The finish does not need much attention. If any light scratches or wear marks develop, DCC recommends a quick buff with WD40, but anything from vegetable oil to mineral oil to CLP to motor oil will work well. Just put a couple drops on your clip and rub it in vigorously using firm pressure with a lint free cloth. This will help keep it looking it's best cosmetically.
Great fit. Holds to a belt so well
Makes carrying 100x better
Secure and confidence building, these clips lock in and ensure your holster will be hanging on for the ride!
Made With
Perfect Precision
Using proprietary molds & CNC milling we achieve a level of precision that can't be beaten. We offer a higher level of comfort and concealment than you have ever experienced from a Kydex holster.
Guaranteed For Life
C&G Holsters are 100% made in America by Veterans & Law Enforcement. Our kydex holsters are made to last for life.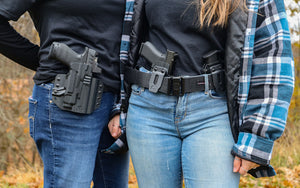 Designed to be so light & comfortable, you never want to take it off. Just ask our customers.
Attention To Detail
C&G Holsters are designed by former law enforcement to be practical and tactical. Our unique design features are inspired by real-life experience like our holster's tall sight channel, solid locking retention, & more.
★★★★★

Fit and finish is top notch. Very comfortable for all day OWB carry. I'm hooked on C&G holsters and magazine carriers, especially the Slim Line.

J.T.

Pennsylvania
★★★★★

I've been in Law Enforcement for 23 years and have had several holsters in that time. This is the best holster I have ever had. I use it everyday for work and am always impressed by its comfort and the way it secures my firearm in my side. I love it!!!

C.S.

Arizona
★★★★★

Awesome Holsters! I have 4 C&G holsters and I absolutely love them all! They are the best of the best in my opinion!

D.M.

North Carolina
★★★★★

This holster is ridiculously comfortable. It hugs surprisingly tight to the body without jamming my weapon into me, and is adjustable to whatever height I need it at very easily.

G.

UTAH