C&G Individual First Aid Kit (IFAK) – Designed by SWAT Medics for the standard Police Officer (Patrolman)
Designed for the Patrol Officer to control bleeding on themselves and others until other medically trained responders arrive on scene.
Vacuum packaged & easy-to-open with the medical supplies needed to begin treatment
Vacuum packaging contains the following:

Hyfin Chest Vent
Combat Gauze
NAR Responder ETD (Israeli Bandage)
NAR Trauma Shears
Surgical Tape

Sealed IFAK fits perfectly into cargo pockets
Made With
Perfect Precision
Using proprietary molds & CNC milling we achieve a level of precision that can't be beaten. We offer a higher level of comfort and concealment than you have ever experienced from a Kydex holster.
Guaranteed For Life
C&G Holsters are 100% made in America by Veterans & Law Enforcement. Our kydex holsters are made to last for life.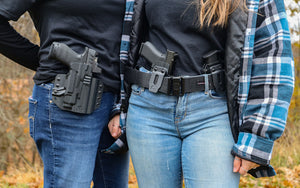 Designed to be so light & comfortable, you never want to take it off. Just ask our customers.
Attention To Detail
C&G Holsters are designed by former law enforcement to be practical and tactical. Our unique design features are inspired by real-life experience like our holster's tall sight channel, solid locking retention, & more.
★★★★★

Fit and finish is top notch. Very comfortable for all day OWB carry. I'm hooked on C&G holsters and magazine carriers, especially the Slim Line.

J.T.

Pennsylvania
★★★★★

I've been in Law Enforcement for 23 years and have had several holsters in that time. This is the best holster I have ever had. I use it everyday for work and am always impressed by its comfort and the way it secures my firearm in my side. I love it!!!

C.S.

Arizona
★★★★★

Awesome Holsters! I have 4 C&G holsters and I absolutely love them all! They are the best of the best in my opinion!

D.M.

North Carolina
★★★★★

This holster is ridiculously comfortable. It hugs surprisingly tight to the body without jamming my weapon into me, and is adjustable to whatever height I need it at very easily.

G.

UTAH